Combine time and your unshakeable love for your passion: Sneakers.
A genuine timepiece adorned with your favorite Mini Sneakers that will captivate you at every glance.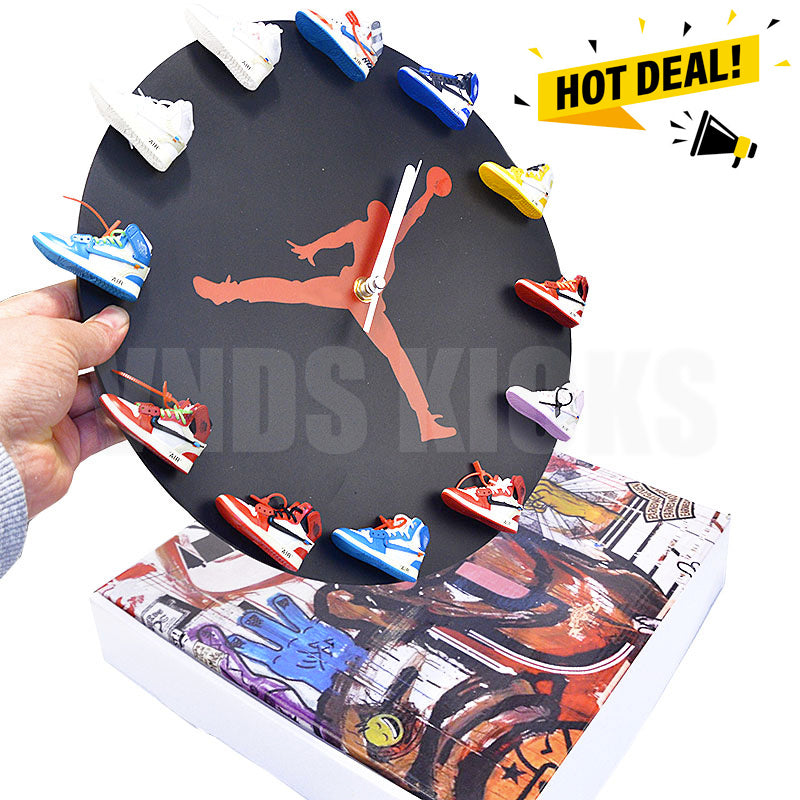 Sneakers Clock with 12 AJ Mini Sneakers
$117.00
$196.00
    Best Sneakerhead Gift! 🎁    In our passions, you know it, we not only love everything about sneakerhead culture but also how we can apply them to different tastes and crafts of our creative aims. One of our most beloved collections started with our mini sneakers craft collection.Today, after brainstorming and bringing something to the forefront that perfectly mixes our love of sneakers with timepieces to share with all fellow drip fans who love to be all about aesthetics.When we put the two together, something new, something extraordinary came off the drawing board session between our team: we decided to bring the shoe rack to the clock and decided it was time to mix the two. Catch the time and dunk on the competition with our special Mini Sneakers Clock! - - - PRODUCT CLOCK: Clock size about 12 inches (30cm) in diameter Come with 12 different popular Mini-Sneakers5 options: x12 Air Jordan 1 chosen at random ORx12 Air Jordan 1 - Air Jordan 12 chosen at random ORx12 Air Jordan 1 Off-White chosen at random ORx12 Air Force 1 chosen at random ORx12 Luxury Mini-Sneakers chosen at randomOther compositions are not possible  All mini sneakers are relocatable, it's stick to the clock base with a magnet The Clock hands move silently, with no ticking sounds SPECIFICATIONS: Clock Mechanism Material: Premium MDF (body)  Size: 12 inches (30cm) The clock uses a 1.5 V AA battery (battery not included) PRODUCT MINI SNEAKERS (sold with 12 Mini-Sneakers 3D depending on the option chosen): All mini-sneakers are handcrafted, designed with precision detail, and hand-painted Materials are ABS Plastic Model 1/6 - size is 2 1/2"(L) x 1" (W) x 2" (H) Real shoelaces INCLUDED: 1 Beautiful Box (clock protected and packed) NOTICE: Some products are really hot, and might be out of stock for a while. Normally re-stock will take around 2-3 weeks (sometimes less). All of our products are customized and have nothing related to those brands, inc(Nike, Jordan, Adidas, Yeezy, etc...).
EXCLUSIVE PRODUCTS
All our keychains are produced in limited quantity
FREE WORLDWIDE SHIPPING
8-12 business days depending on location
SUPPORT 24H/24
Contact us by mail or by PM on Instagram
SAFE & SECURE CHECKOUT
Safe payment by Credit Card or Paypal